In this journey to show more love, I'm finding some triggers that make me less loving. One of the main areas in which I have to watch myself is when I drive. I just might suffer from angry driver syndrome *ahem* road rage.
Ok. I admit it. I DO have a teensy problem with road rage.
Oh, yes I do, and it might not be such a tiny problem. In fact, I've been tempted many times to go full-on TOWANDA à la Evelyn in Fried Green Tomatoes. I may or may not tap my brakes on you if you're tailgating. I would flip you off if I was more coordinated. I'm not dangerous (usually), but my carefully cultivated potty mouth will call you out if you don't follow the rules of the road or are generally an asshat behind the wheel.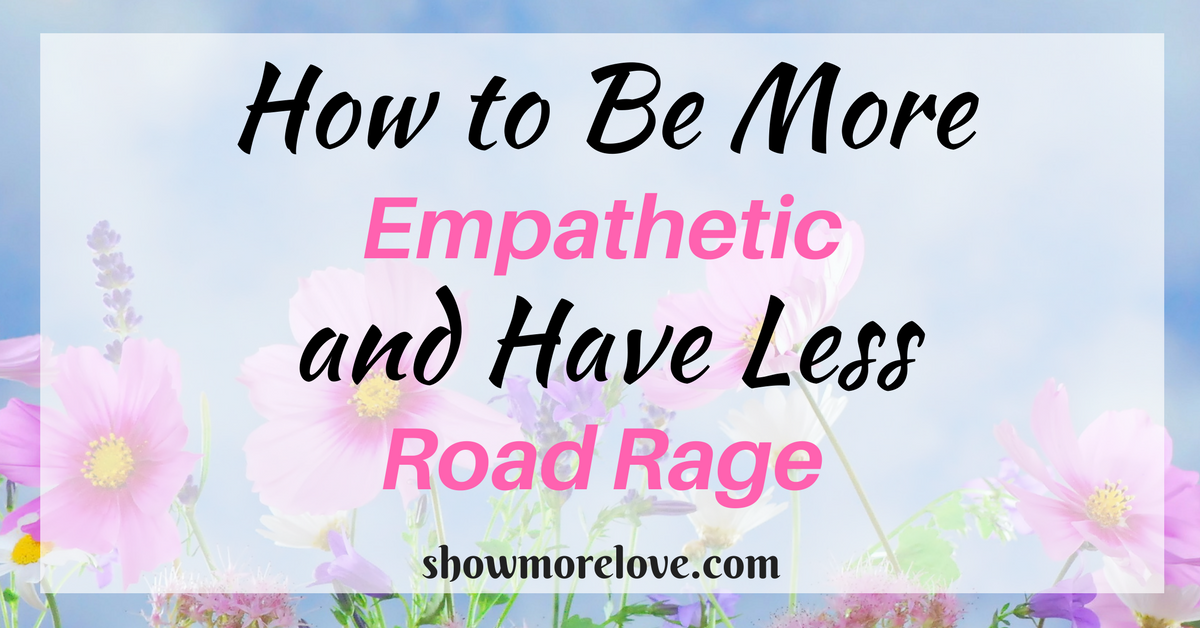 Even though I have been monitoring my driving persona for a while, I still struggle not to go straight to psycho. However, when I feel myself going there, when I am tempted to roll down my window, extend my middle finger, and swear at the top of my lungs,
I ask myself a simple question:
Why did that jerk driver ____________?  And I answer the question.
Why did that jerk driver run a red light? Well, what if he is hurrying to get his pregnant wife to the ER, or she has an elderly parent who has fallen?
Why is that jerk driver sleeping? The light's green! Maybe she just worked a 24-hour shift and is desperate for sleep. Maybe he has a migraine.
Sometimes I even make up outrageous reasons for other drivers' terrible driving. Why are you riding up my bumper, jerk driver? Well, maybe a bubble of magnetism has erupted up from the Earth's core and is slowly drawing our two automobiles together. #nerdalert #notpossible
You get the point.
Then, I try to empathize with the other driver. I try to put myself in that person's shoes.
Now, I know that realistically, most of these drivers are probably just inconsiderate jerkwads, but what does it cost me to give them the benefit of the doubt?
Nothing but a moment of thought and some empathy
What do I gain? Well, first, my blood pressure doesn't spike. Second, I don't end up with a splitting road rage headache. Third, I don't spend three hours fuming, complaining to everyone I know. Fourth, I don't have an injured hand from repeatedly battering my steering wheel because I forget my horn is on the fritz.
Instead, I allow myself a moment to breathe before going from zero to nutjob. I take a moment that might have escalated into a full-throated, middle-finger-raising hissy fit, and I make it one in which I consider another human being through the light of empathy – trying to feel what they may be experiencing in my hypothetical scenarios.
Admittedly, it's a work in progress. Sometimes, I forget, or I ask my questions after I've blown my top. But, I'm trying and practicing and getting better at it.
Yes, the questions I ask myself are based on nothing, but that's not the point. I can't change other drivers' behavior, but I can change mine – especially my reactions.
So, what's it cost me to be more loving and less road-raging maniac? Not a damn thing.
Show more love. Grow more love.
♥ Teresa
This post is not intended to excuse true asshat, jerkwad driving behavior and should not be used as such.
Please be considerate and follow the rules of the road. Doing so will help those of us struggling with angry-driver syndrome road rage.

Let's all be safe out there.