One of the purposes of Show More Love is to convince people to show more love to themselves and to give them tools and strategies to help them succeed in loving themselves more and better. The challenge I'm introducing today is a biggie, and it is one about which I am, frankly, pretty nervous. Why? Because a good way to show love for yourself is by having a healthy lifestyle which includes weight loss if needed, and I ain't lovin' myself very well.
I've known for a long time that I need to lose significant weight, and weight loss is hard. However, I may have finally found something to motivate even me!
So, if you survived holidays with the family, are suffering from post-holiday bloat, and have decided that this year you will lose some weight, stay tuned!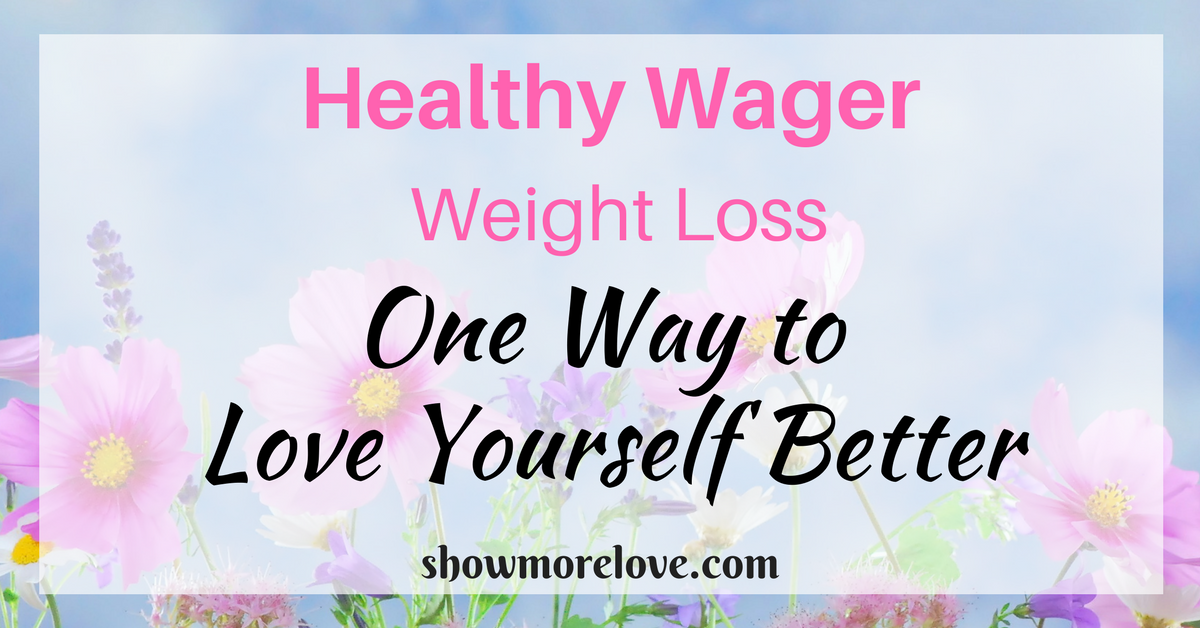 First, some unvarnished truth.
Unvarnished Truth #1
I am overweight.
I haven't always been too heavy. Certainly, I have never been this heavy. However, I am currently the heaviest I've ever been, and now the world knows it (because I just told it).
Unvarnished Truth #2
I am unhealthy.
I have a pitiful diet liberally sprinkled with sugary drinks and fatty snacks, and I rarely eat vegetables or fruit. Sometimes, I eat Cinnamon Chex every meal for a week. I like to cook, but since I hate to clean up, I rarely cook. Starbucks bottled frappuccino is heaven to me. Frankly, I am addicted to it. In fact, I am a sugar addict.
Unvarnished Truth #3
I rarely exercise.
I am terribly out of shape. There is solid musculature underneath the flab, but I'm not doing very much to strengthen those muscles or build up my cardiovascular system.
Unvarnished Truth #4
I am sick.
I have two diseases: fibromyalgia and rheumatoid disease. My rheumatologist has told me over and over I need to lose weight, eat healthier, and exercise. If I do, I will have less pain. And believe me, I have lots of pain I'd like to send on its way. In addition, the RD means I have a higher risk of cardiovascular disease and cancer, and excess weight and a poor diet increase those risks further.
Furthermore, since I hardly have any cartilage left in my right knee, a total knee replacement is highly likely in the next several years, and I know I will recover better if I'm lighter and healthier.
Now What? Can I

finally

achieve meaningful weight loss?
Now that I've spoken my truth, I've decided to do something about it, and I want to ask you along on the journey!  If you want to lose at least 10% of your body weight or a lot more *raises hand*, I've found an option you may want to try.
I think in order to successfully reach our goals, we have to put some skin in the game, and in this game, that skin is cash – dinero, moolah, coin. Yep. it's money, Honey.
I came across HealthyWage while once again researching the best diets for healthy weight loss. HealthyWage introduces a financial incentive for weight loss. Recent studies, including this one in the Journal of the American Medical Association, show that using a financial incentive is an effective means to drive weight loss.
The Basics
The HealthyWage's HealthyWager is an individual challenge which allows you to place a bet on your weight-loss goal. After creating a HealthyWage account and entering your information, you can play with the calculator to determine the perfect combination of weight loss to time to dollars for your goals. You enter how much you want to lose over a certain period of time – say 30 pounds over 6 months or 70 pounds in 12 months. Then, you enter how much each month you are willing to wager that you'll succeed – say $20 or $50 or $100. You can pay monthly or in a lump sum. 
Please note that in order to make a HealthyWager, you must bet you will lose a minimum of 10% of your beginning weight in a minimum of 6 months with a minimum total wager amount of at least $100. 
Next, you are asked a few additional questions: your height, weight, and waist size. The HealthyWage algorithm uses the information you entered to determine how likely you are to succeed – in this case, the likeliness of successfully reaching your goal weight – and determines your payout. Everyone's payout calculation is different because of different wager lengths, weight loss goals, and measurements. 
How much can you take home if you meet your goal?
I did some experimenting with the calculator (and you can, too).  Here are a few scenarios.
I entered I wanted to lose 50 pounds over 9 months putting $20 in per month.
The payout?

My wager returned – $180

The payout for reaching my goal – $535.41

Total Payout: $715.41
I entered I wanted to lose 70 pounds over 12 months putting $50 in per month
The Payout?

My wager returned – $600

The payout for reaching my goal – $1470.71

Total Payout: $2070.71
I entered I wanted to lose 20 pounds over 6 months putting $20 in per month.
The payout?

My wager returned – $180

The payout for reaching my goal – $133.69

Total Payout: $253.69
I entered I wanted to lose 50 pounds over 6 months putting $100 in per month
The Payout?

My wager returned – $600

The payout for reaching my goal – $1350.71

Total Payout: $1950.71
Again, everyone's calculations will be different because of your individual information on height, weight, and measurements will be used in the algorithm. Once you choose your HealthWager, it will not change.
Sounds great, right?
There is one teeny-weenie, itsy-bitsy catch.
If you don't reach your goal weight, you lose the money you put in. Yep, just like betting on poker or at the roulette table, if you lose, the house keeps the chips.
But to me, that sounds like an awesome motivating factor! Nothing gets me riled up than the chance to win some money or not to lose my own money.
How does the HealthyWager work?
Once you sign up, play with the calculator and pick your wager details, you have one more step in order to begin. You need to complete a starting weigh-in. HealthyWage has four easy options for verifying your weight. Then, you start your weight loss journey using your potential payout as motivation! You have 90 days after signing up and making your first payment to complete the verified weigh-in. Your wager doesn't begin until you complete your initial weigh-in.
You must also verify your weight in the last two weeks of your weight-loss period. If you reach your goal weight early, prior to the last two weeks, you must maintain that weight or keep losing until two weeks before your end date. No early weigh-outs.
My take –
I like the idea of a HealthyWager. I am in control. Whether I win or lose is completely up to me. No one tells me how to lose the weight. I can use any method – hopefully, a healthy one – to drop the pounds. There are no required weekly weigh-ins (although you can participate in voluntary checks) or special foods to buy (unless you choose to use an outside program). Realistically, the HealthyWager is simply a tool to keep people motivated on their weight-loss journeys.
So … on November 1, 2017, I signed up! I bet $180 (in monthly payments of $20) that I would lose 50 pounds in 9 months. Honestly, I could drop much of the weight and pay the $20 a month many ­times over if I just cut the Starbucks (don't judge).  Anyway, I made my first payment and completed my weigh-in verification on November 5th. Verification was super easy with the HealthyWage app, and it took less than a minute.
If I "win" my bet, I will take home $715.41!
Will I win my HealthyWage Health Wager? I don't know, but I hope so. I do know that reaching and maintaining a healthier weight would be an awesome way to show ME a little more love – even if it's tough love.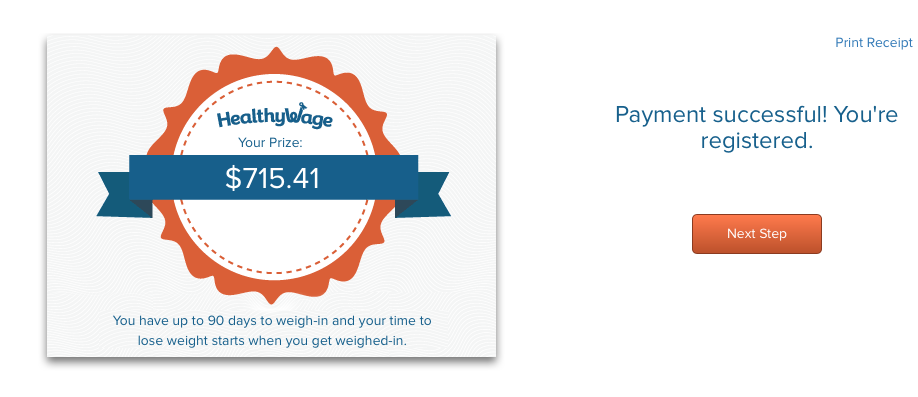 Want to join me?
Yes? Please consider the following before whipping out your credit card.
Make sure you only bet what you are willing to lose. The reason HealthyWage can have great payouts is that many people fail to reach their goals.

Please make your weight-loss goal a realistic and healthy one. The Centers for Disease Control and Prevention suggest a healthy rate of loss is in the 1-2 pound range per week. That's cutting or burning 3500-7000 calories per week.

Remember that I am not a health professional. It's always best to consult your doctor when considering any type of weight loss.

Weight-loss results are not guaranteed by HealthyWage (I wish!) or by me.
What do you think?
Do you have experience with HealthyWage's HealthyWager? If so, tell us about it!
Thinking of participating? Let us know!
Show more love. Grow more love.
♥ Teresa
1/25/18 Update: I've lost some weight, but I really need to get with the program if I want to win my wager. Still trying to quit the Starbucks. Let's do this together!
If you would be interested in a secret Facebook group to help us support one another, let me know in the comments or via the Facebook page.